BEST FOR
STARTING OUT
STANDARD
$16
Per Month, Billed Monthly
Cancel Anytime
Sign Up
6,000 Newsletter Emails
Included (per month)
or Unlimited with your Mailgun account
50GB Storage
Unlimited Bandwidth
Unlimited Members / Subscribers
25MB Max File Upload
Unlimited Transactional Emails







* * * * * *
All Plans Include:

Ghost v5+
Use your own Custom Domain
Use any Ghost theme
(Custom/Official/Any!)
Custom integrations
Unlimited Staff Users
Unlimited Newsletters
Unlimited Premium Tiers
SSL Certificate Included
CDN for Images
Use with Cloudflare CDN
DDoS attack mitigation
(with FREE Cloudflare Account)
Managed Hosting & Security
Automatic Ghost Updates
Automatic Daily Backups
0% Transaction Fees
Migration Help
(from Ghost)
Email & Chat Support
BEST FOR SITES with NEWSLETTERS
PLUS
$21
Per Month, Billed Monthly
Cancel Anytime
Sign Up
12,000 Newsletter Emails Included (per month)
or Unlimited with your Mailgun account
100GB Storage
Unlimited Bandwidth
Unlimited Members / Subscribers
100MB Max File Upload
Unlimited Transactional Emails
Subdirectory Install - example.com/blog





* * * * * *
All Plans Include:

Ghost v5+
Use your own Custom Domain
Use any Ghost theme
(Custom/Official/Any!)
Custom integrations
Unlimited Staff Users
Unlimited Newsletters
Unlimited Premium Tiers
SSL Certificate Included
CDN for Images
Use with Cloudflare CDN
DDoS attack mitigation
(with FREE Cloudflare Account)
Managed Hosting & Security
Automatic Ghost Updates
Automatic Daily Backups
0% Transaction Fees
Migration Help
(from Ghost)
Email & Chat Support
BEST FOR LARGER
SITES & BUSINESSES
BUSINESS
$65
Per Month, Billed Monthly
Cancel Anytime
Sign Up
40,000 Newsletter Emails Included (per month)
or Unlimited with your Mailgun account
1TB Storage
Unlimited Bandwidth
Unlimited Members / Subscribers
1GB Max File Upload
Unlimited Transactional Emails
Subdirectory Install - example.com/blog
HostForward.io Reverse Proxy
99.9% Uptime SLA
Custom SSL Certificates
Custom Sending Domain

* * * * * *
All Plans Include:

Ghost v5+
Use your own Custom Domain
Use any Ghost theme
(Custom/Official/Any!)
Custom integrations
Unlimited Staff Users
Unlimited Newsletters
Unlimited Premium Tiers
SSL Certificate Included
CDN for Images
Use with Cloudflare CDN
DDoS attack mitigation
(with FREE Cloudflare Account)
Managed Hosting & Security
Automatic Ghost Updates
Automatic Daily Backups
0% Transaction Fees
Migration Help
(from Ghost & Substack)
Email & Chat Support
Midnight vs Ghost(Pro)
See how Midnight stacks up against the official Ghost(Pro) managed hosting service

Feature

Midnight
Standard Plan
$16 / month

Midnight
Plus Plan
$21 / month

Ghost(Pro)
Creator Plan
$31 / month

Staff Users

Unlimited

Unlimited

2

Blog Members / Subscribers

Unlimited

Unlimited

1,000

Newsletter Emails

6,000 Emails per Month
(Unlimited with your Mailgun)

12,000 Emails per Month
(Unlimited with your Mailgun)

Unlimited but capped
at 1,000 Subscribers

Custom Domain

Own your data

Managed Install & Setup

Automatic weekly updates

Server maintenance & backups

Threat & uptime management

Worldwide CDN (with FREE Cloudflare Account)







Subdirectory Install (example.com/blog)*

Security

Cloudflare DDoS Mitigation (with FREE Cloudflare Account), Cloud Firewall, Brute Force Protection & Automatic Rate limiting

Cloudflare DDoS Mitigation (with FREE Cloudflare Account), Cloud Firewall, Brute Force Protection & Automatic Rate limiting

Cloudflare DDoS Mitigation, Web App Firewall, Brute Force Protection & Automatic Rate Limiting

Support

Email

Email

Email

$16 per month

-

$21 per month

-

$31 per month

($25 per month when paid anually)
* A subdirectory install is where your blog is accessed at an address like this: www.mysite.com/blog. These kinds of installs require some technical knowledge on the part of the customer and require them to setup their own self-hosted reverse proxy with a custom configuration. Please contact us by email before signup to discuss your setup if you would like to use this feature.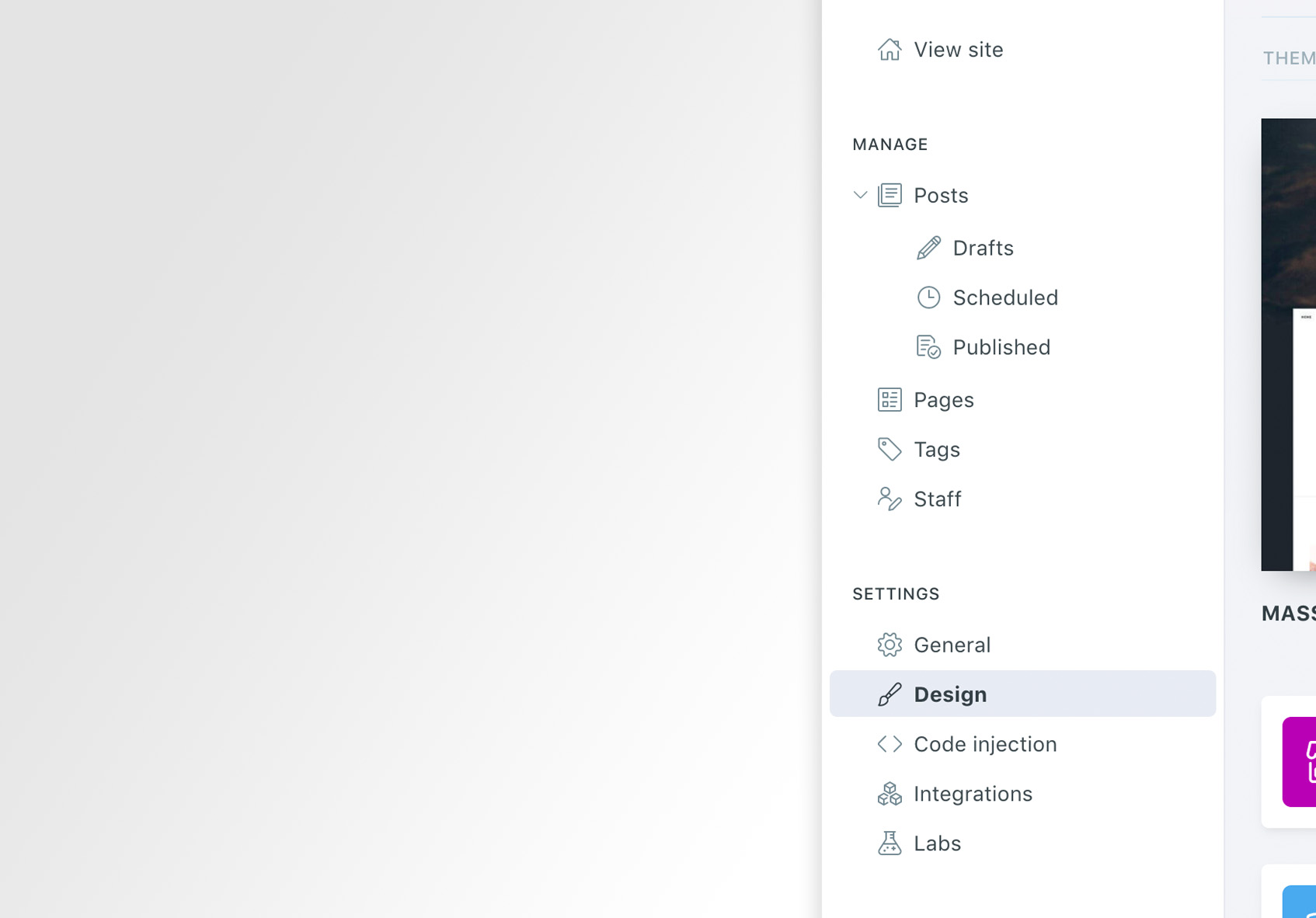 What our users have to say...
Thanks a lot for your swift support! Ghost really is fast and the best thing is every setting is just exactly where it's supposed to be! I wonder how I could ever use something so slow and sluggish as Wordpress compared to this...
@ATMOS_BLACK
Midnight Customer