Create your own Ghost blog instantly with a click
Premium Ghost blog hosting with zero setup. Now featuring Ghost version 3.0
Why choose a Ghost blog hosted by Midnight?
The blogging power of full Ghost version 3.0+
A Ghost blog on Midnight has all the features available to all Ghost version 3 users (including subscriptions), completely pre-configured for you, no databases, domains or email to configure - all you need to do is log in!
Always Secure & Up to Date Managed Ghost Hosting
We take care of the server maintenence, monitoring and security updates so you don't have to. Your blog is also automatically updated with the latest Ghost versions as they are released.
Hosted on super-fast Class Leading enterprise servers
Midnight hosts your blog on servers containing only enterprise-grade solid state disks (SSDs) technology and best-in-class network connectivity for the ulimate blog speed performance.


Use your domain & auto SSL HTTPS certificate included
All blogs automatically come with an SSL certificate for secure HTTPS browsing. Bring your own domain to replace our free subdomain and we will set it up for free.
Automated Daily Blog Backups taken care of
Never worry about loosing your content, all our blogs are automatically backed up daily to additional network storage. Any data on your blog is also owned by you, no sneaky terms here.
Totally Awesome Support by Chat & Email Included
When your Ghost blog is hosted by Midnight there is no need to worry about any technical stuff. We setup everything and provide support for the life of your plan. Got a question or a problem just ask.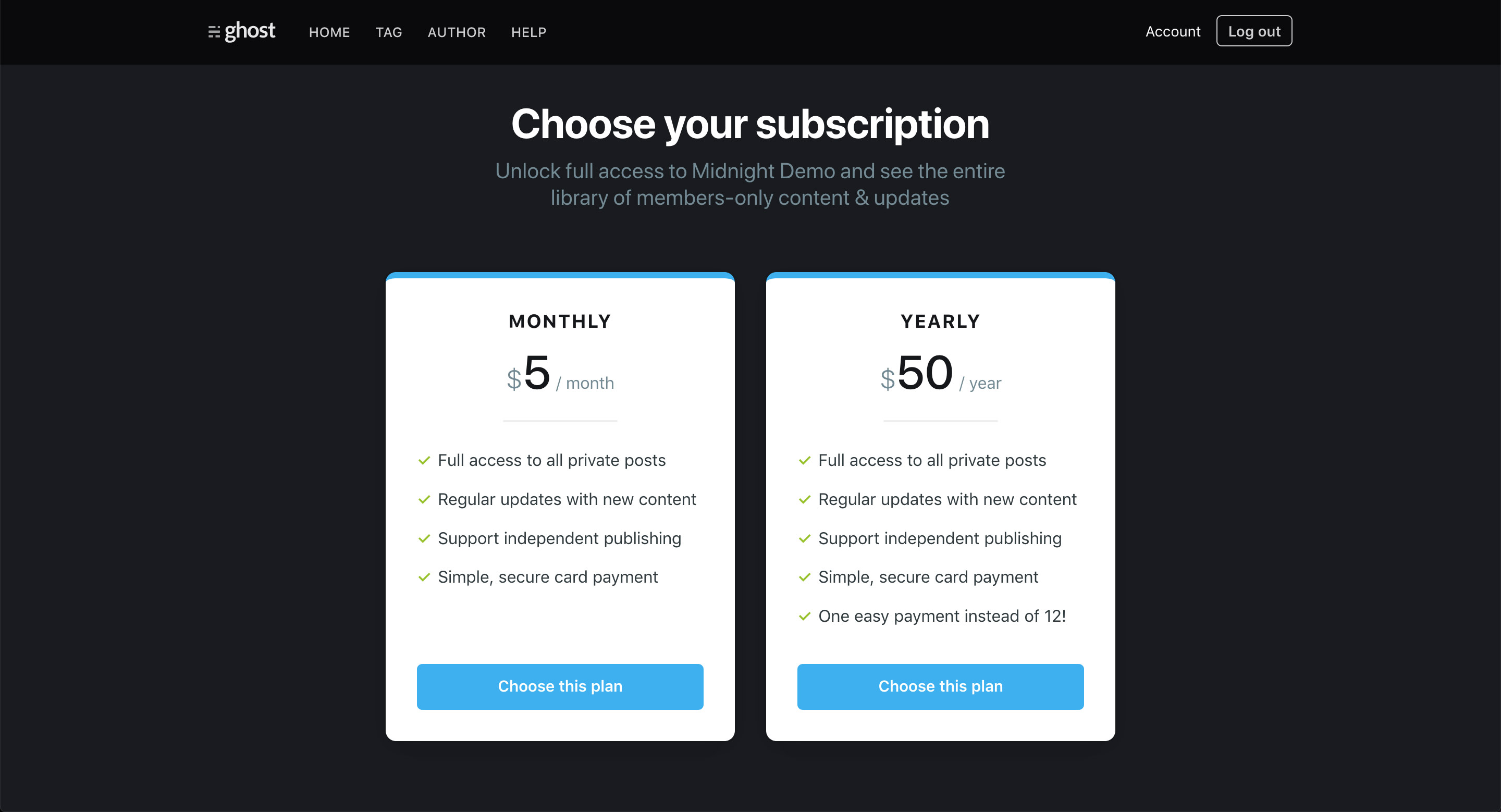 Ghost 3.0 allows you to monetize your blog with paid subscriptions
Turn your audience into a business. Use memberships and subscriptions to develop a direct relationship with your audience and generate predictable, recurring revenue to support your work.
Explore Ghost 3.0
With Midnight complex Ghost install & setup is a thing of the past
At Midnight we don't just provide managed hosting for Ghost, we install everything too, instantly. No complex hosting, domain or email setups you just pick your domain and login.
Learn More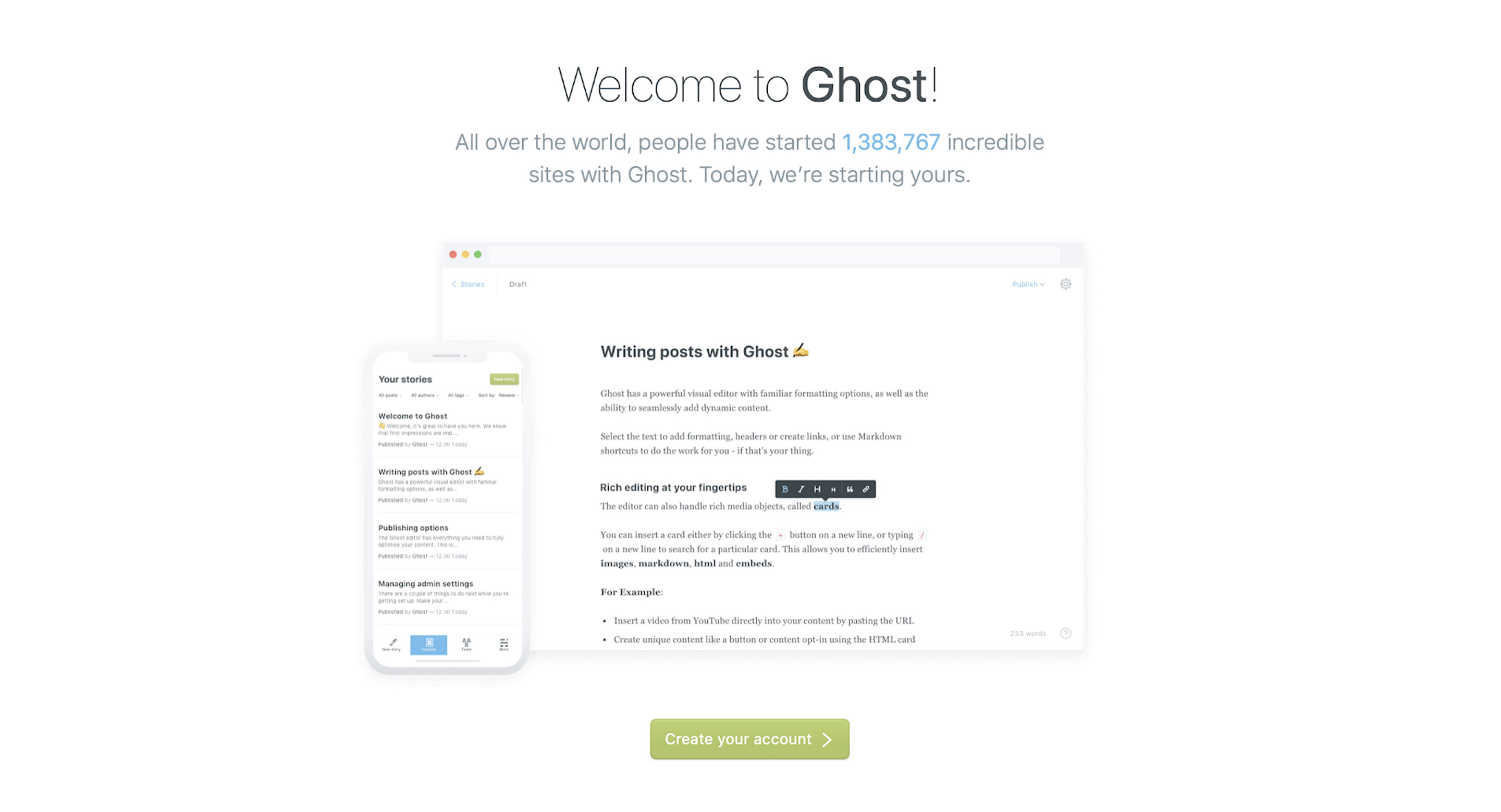 Bloggers Midnight
Thanks a lot for your fast support!
Ghost really is fast and the best thing is, that every setting is just exactly where its supposed to be!
I wonder how I could ever use something so slow and sluggish as Wordpress compared to that...
I will definitely recommend you - in fact I already did on Twitter!
Our Hosted Ghost Blog Plan
Like the concept of Ghost we thought we would keep our plans & pricing as simple as possible. That's why we only have one fully featured plan, because everyone derves the best.
On sign up your Ghost blog will be created automatically and you will recieve an email with how to login. Our hosted Ghost blog plan is billed monthly and can be cancelled at any time. If you need a higher level of service just contact us directly.
Complete Ghost v3 - no setup needed
Champion Support via Chat & Email
Billed Monthly, Cancel Anytime
Midnight Hosted
Ghost Blog
$15
Per Month, Billed Monthly
No Contract
sign up today
The Plan Includes:
All Ghost 3.0+ Features
SSL Certificate Included
FREE Custom Domain Setup
Managed Hosting & Security
Automatic Ghost Updates
Automatic Backups
Priority Email & Chat Support
Cancel Anytime


Who uses Ghost?
Take a look below at these blogs powered by Ghost