Ghost hosted by Midnight has all the features you need to create a powerful blog or online publication completely pre-configured with no installation needed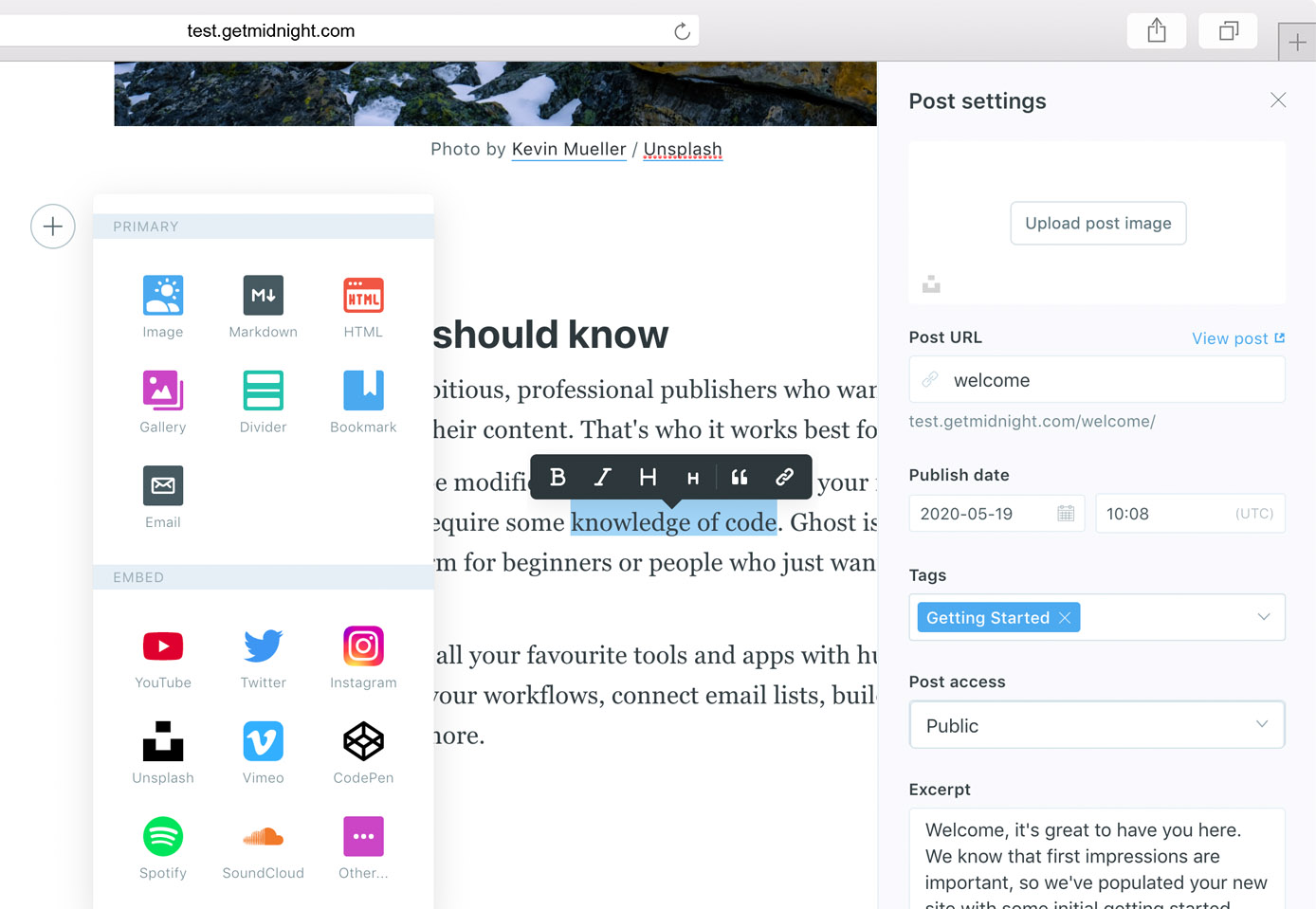 Easy to use rich editor with content blocks
Create posts with ease using the rich content editor which allows you to easily format text, add & upload images, create photo galleries, and embed dynamic blocks of content like YouTube videos, weets, music and more with just a click - no complicated menus.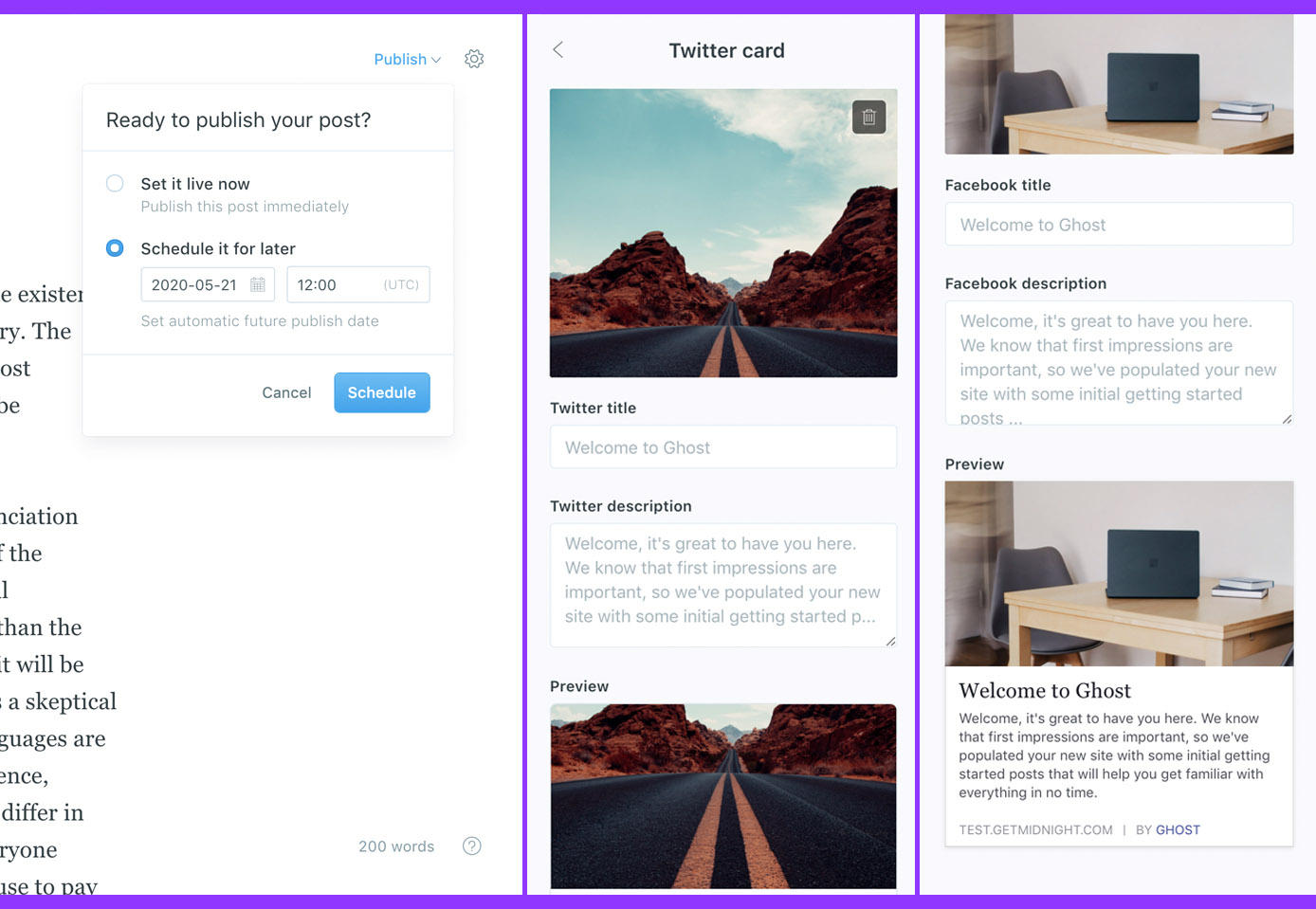 Schedule posts and powerful SEO tools
Write posts in advance and schedule them to go live at a later date, Ghost remembers to publish at the right moment so you don't have to.
Ghost has SEO built right in - semantic markup, permalinks, XML sitemaps, canonical tags and rich meta data for Facebook & Twitter. In addition with integrated AMP support, your site will rank higher and load in a fraction of a second from Google mobile search results.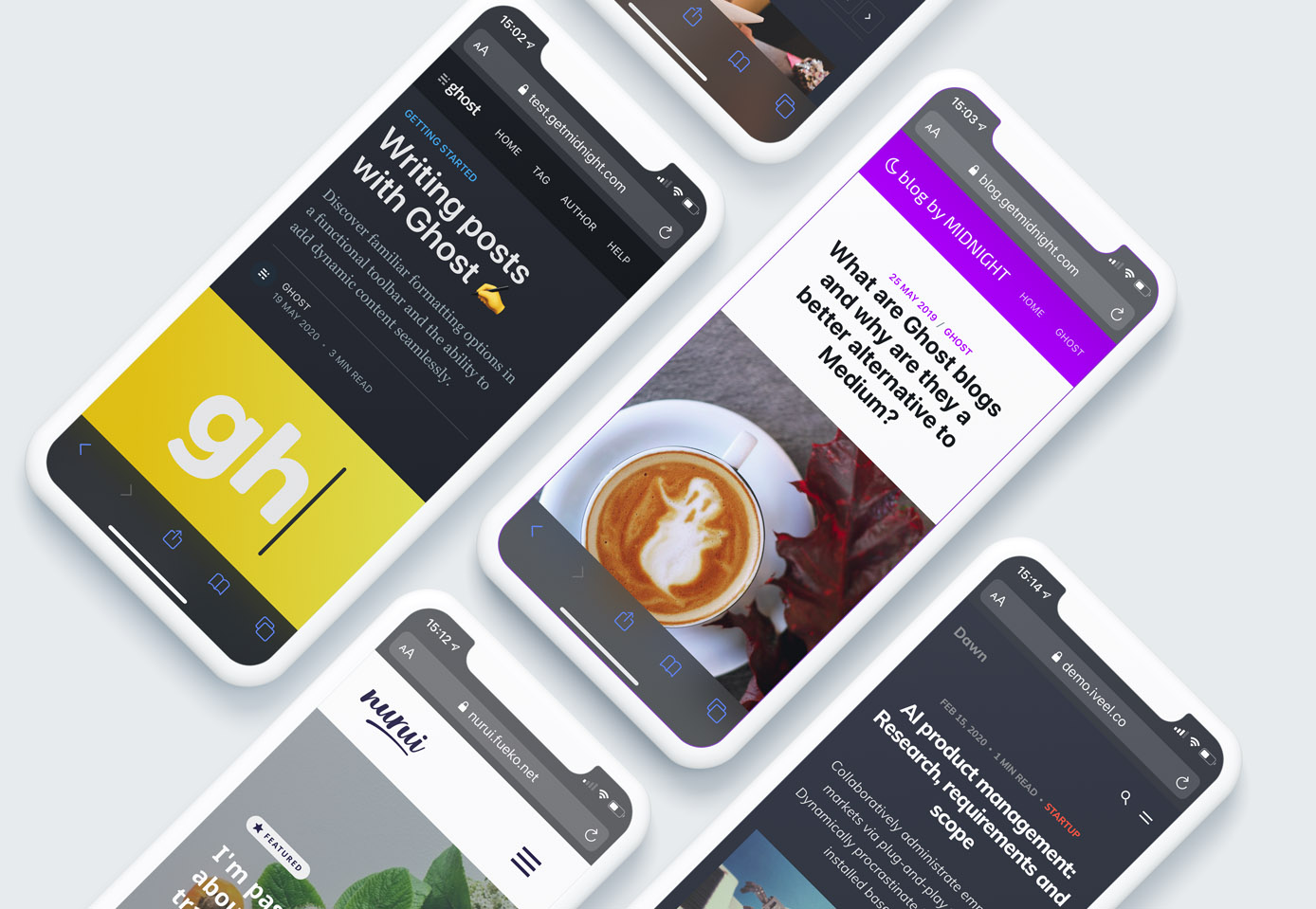 Looks great on mobile & use your custom domain
Your Ghost blog is optimised for mobile users too using responsive design practices ensuring readers have a pleasant experience browsing your blog.
Bring and use your own domain on your blog with no additional charges or choose a Midnight subdomain. We automatically activate an SSL certificate for every domain enabling a secure connection to your blog.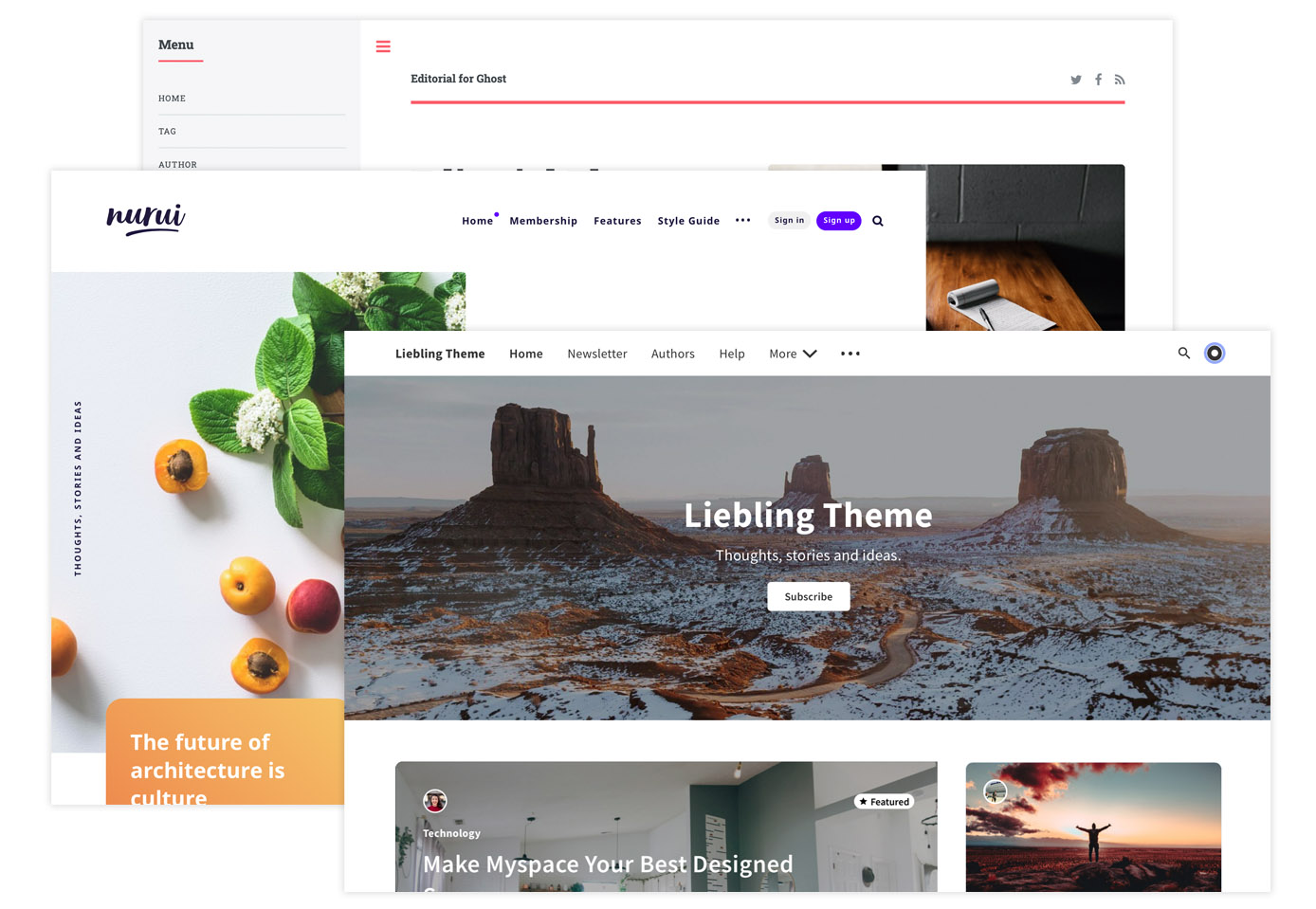 Choose from hundreds of themes and invite your team
Choose from hundreds of gorgeous free & premium themes created by the Ghost community, allowing you to get started with a great design to match your brand in no time at all.
Invite your whole team to collaborate and publish content on your blog. Team members can have a specific role such as author, editor or administrator to manage the level of access to your blog.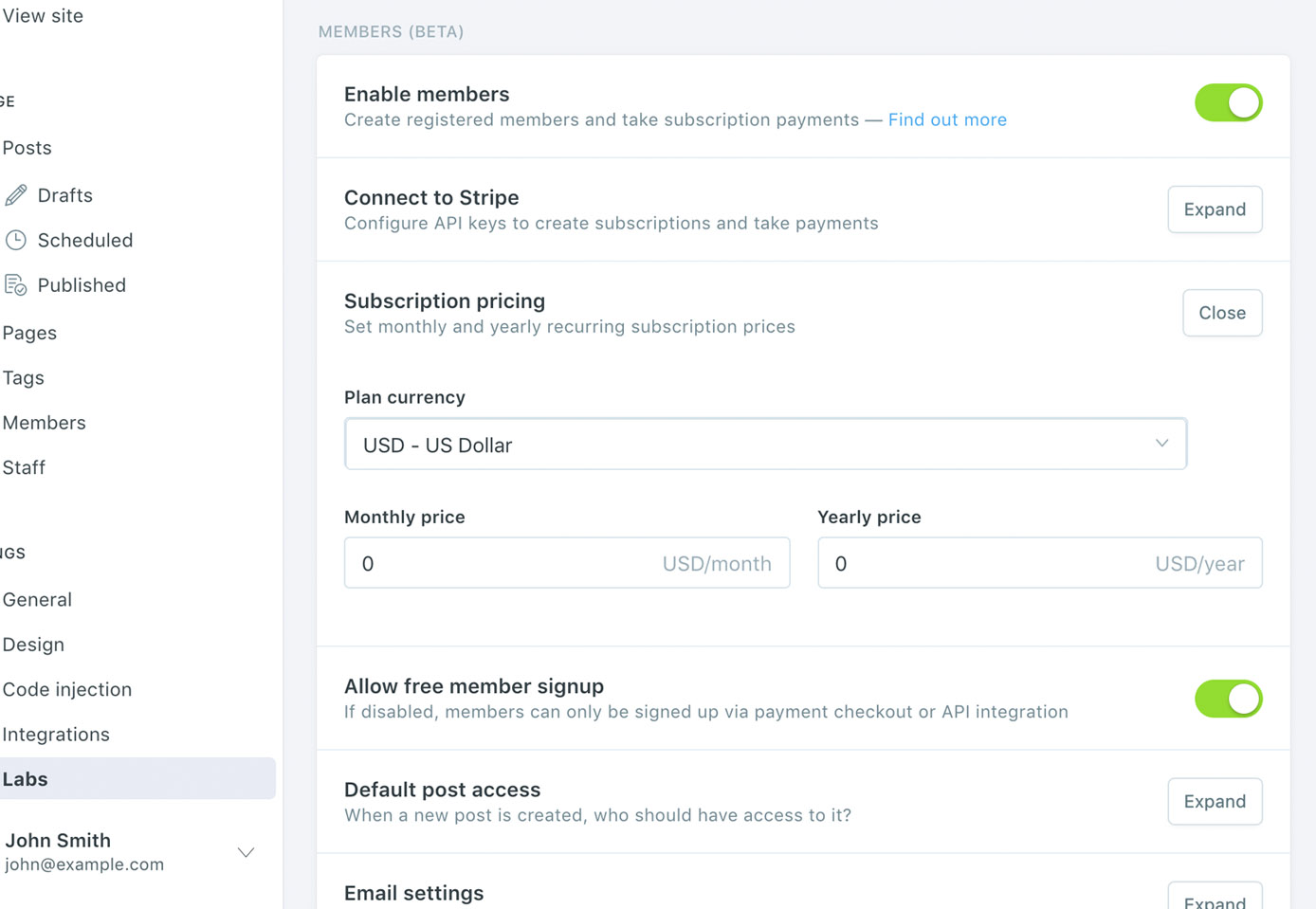 Members, Newsletters and Subscriptions
Build audience loyalty with the integrated memberships feature. Readers of your blog can sign up to access exclusive content and newsletters all easily managed through the Ghost interface. Generate recurring revenue by enabling the subscriptions feature and charge for your additional content using custom price plans and Stripe payment integration.
Ghost + Midnight's Managed Hosting =
The full publishing power of Ghost version 5+
A Ghost blog on Midnight has all the features available to all Ghost version 5 users (including members & subscriptions), completely pre-configured for you, no databases, domains or email to configure - all you need to do is log in!
Secure & Up to Date Managed Ghost Hosting
We take care of the server maintenence, monitoring and security updates so you don't have to. Your site is also automatically updated with the latest Ghost versions as they are released.
Hosted on super-fast Class Leading enterprise servers
Midnight hosts your website on servers containing only enterprise-grade solid state disks (SSDs) technology and best-in-class network connectivity for the ulimate blog speed performance.


Use your own domain with an SSL certificate included
All blogs automatically come with an SSL/TLS certificate for secure HTTPS browsing. Bring your own domain to replace our free subdomain and we will set it up for free.
Automatic Full Blog Backups Every Day
Never worry about loosing your content, all our blogs are automatically backed up daily to additional network storage. Any data on your blog is also owned by you, no sneaky terms here.
Totally Awesome Support via Chat & Email
When your Ghost blog is hosted by Midnight there is no need to worry about any technical stuff. We setup everything and provide support for the life of your plan. Got a question or a problem just ask.